FUN POISON started at a small R'n'R club in the redlight district of Wellington, New Zealand.

The party was subtitled: Automatic Traumatic / Toxic Speaker Spill - featuring muzak that the organisers had come enjoy being spewed forth over large speakers in an oh, so groovy way! Muzak featured: Tekno / Groovecore / D'n'B / Reggae, DJs were: Psi, Sean, Lemon, Dr. Cund, Agent99, Ruffstep, Loontoonz.

The gig also had CD giveaways of two Obscure releases: Skankatronics - V/A ( NZ ) and the LRS - Syntax album.

The first Fun Poison filled the venue to capacity ( 150+ ) with a very eclectic crowd indeed. So just one of these events was obviously not enough...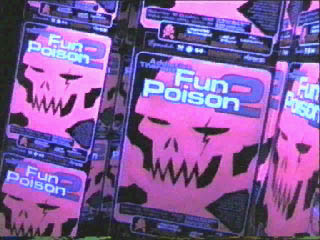 Along came Fun Poison 2: ADDICTIVE THERAPY. Same venue and still featuring the Simon Morse custom designed skull'n'crossbones of the first FUN POISON except this time in a lovely shade of fluro pink!
The edgey muzak of the first party followed through to the second, with perhaps more emphasis on trashy breakz / Tekno, DJs were: Psi, Cuff, Dr. Cund, Agent99, Shadowgrrl & Loontoonz.
This party also had a very limited (20) CD-R giveaway of recently formed, briefly focused project called Outmost ( collaboration = LRS / Polarity ) still pending vinylisation!! Venue bursting at it's seems, 200+.
And yes, you guessed it, we had to do number three... This time with a quick few emails / phonecalls we secured the DJ skillz of noFuturist Nick Spice... http://www.no-future.com
After touring Cristian Vogel through New Zealand, Australia and Japan in FEB '98 which was supposed to feature Mr. Spice as well we knew he was in Australia at about the same time every year...
Fun Poison 3: DRUG'N'BASS was thrown up!! Different venue this time as we knew the international DJ was going to be attractive to our usual following of dwarfs, hermaphrodites, spastiks and spunkers.
Party featured rare LIVE PA by LRS in veritable wolves clothing made of Outmost samples'n'stuff -
'twas absolutely bombastik!!! Not to mention NICK SPICES' completely blinding 2hr+ set and the other DJs wicked performances, they were: the4dekmonstamxdownmadams: Angrey ( Agent99 & Shadowgrrl ), Cuff vs. Loontoonz which turned out to be Tjaden vs. Loontoonz due to Cuff being stuck(up) in Auckland at some wankoff of a party and completely missing (the point) the gig altogether!
Studio9 filled to 350+ with the usual crowd of aforementioned mutante that follow the FUN POISON parties, we all had a well wrecked time 'till 6:45 am which continued at another place for those who hadn't had enough 'till high noon... end of the FUN POISON story so far...
Now we come to either the start, middle or the complete and utter end with a Fun Poison party going international with it's foundation members Simon (Psi) and Larry (Loontoonz) putting on a knees up in OSAKA / JAPAN!!
The party in Osaka is being organised by Kent native ( now living in Japan ) Tim_E and will headline with OBSCURESOUNDSYSTEM DJs Psi & Loontoonz playing trashy breakz / haunted House / D'n'B and Tekno!!! Party will also feature DJs NAOKI & ELIXIR with VDJ mixologist EDDISON SHOP.
All will be revealed on this site soon... May the collapse be with you!!
- dj Lazza