Fun Poison 3
Drug 'n Bass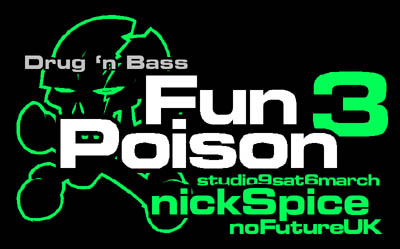 A totally boosted/enhanced Studio9 space plays host to the third and final gig in Obscure's legendary, madcap FUN POISON series.
Entitled DRUG 'n BASS, Fun Poison 3 features a very, very special international guest DJ here for only one New Zealand gig: No Futurist and groovecore extremist Nick Spice [UK] will be on the deks peakin' the party out for 2hrs+
Studio 9 :: Wellington Saturday 6 :: March 1999

Nick Spice (noFuture UK)

LRS (live) - Angrey - Loontoonz vs Cuff - Vee - Flic - Jaz

Exclusively door sales - Get in cheap before midnight!
Also coming your way, LRS will execute a rare live PA for your dancing mindfuk pleasure!!
The deadly dance combo of Agent99 and Shadow Girl will appear as Angrey... enter the vortex of the4dekmonstamxdownmadams!
Studio9's backbar will house the crackly vinyl cartel of capital city deepbeat mavens FLIC, VEE and JAZ.
Rounding off the nite obscuresoundsystem regular Loontoonz battling CUFF in a spaztek/jaktek whirlwind of pure dancefloor annihilation.