Nick Spice
Dancing is fun but falling over perhaps better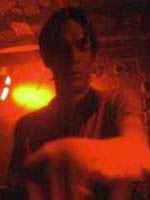 Nick Spice is a Brighton resident who came here like so many of us - to attend the city's fine temple of learning, Sussex University.

Fortunately for dancefloors around the world DJing was more interesting than studying and although he is still a bachelor, he's not one of Arts. Whilst at Sussex he met Pete Minet and together they started a club called Acid Box. When both lads went to Australia, the club stopped and on Nick's return young fellow student and whippersnapper Cristian Vogel put his oar in to restart the night as The Box. This legendary night later became the fantastic Defunkt night, with founder Nick still putting the hours in as resident.

In 1995 Nick started Solid records with Mat Consume and he has recorded for the label as CUTS. He has also recorded for Eukatech as SPLINTER and is planning to do more recording both on his own and in collaboration with others including old mate from the free party underground, Chris Liberator. Together this pair of reprobates run the Off The Wall label.

Nick has played in countries in every continent apart from America, including Japan, South Africa (where he played with Cristian Vogel and Neil Landstrumm in the barren and remote Karoo desert), Russia, Germany (where he played at Groove magazine's number 2 rating club in Germany, Stammheim in Kassel) and in London, Manchester and Sheffield in the good old UK. Defunkt begins a bi-monthly residency on the third Saturday of the month at Tresor Berlin on May 23rd and Nick will be there along with Cristian Vogel and another Defunkt resident Flack. If you are in the area check it out.