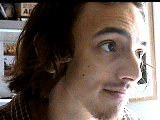 Born in Chile in 1972, Cristian Vogel came to the UK in the 1970s when his family fled from the oppressive Pinochet regime and took asylum at Sussex University. Living in the Midlands, his first love as a child was computer coding, firstly on the Oric-1 and then on the Amiga. The rave scene and his emerging talent for writing music on the Amiga influenced him to choose a 20th Century Music Degree at Sussex University in 1992, rather than his initial choice of Artificial Intelligence. although Cristian could not actually read music or play an instrument at concert standard (the normal qualifications for acceptance), the University were foresighted enough to realise that cristian had real compositional talent, and it was during his three years at Sussex that cristian's production and DJing career began , starting with a release on MAGNETIC NORTH and culminating in his signing as the first UK artist ever to be released on Berlin's legendary TRESOR label, with his second album *Absolute Time* in 1995. Cristian's first album, *Beginning to Understand* was released in 1994 on MILLE PLATEAUX, and was a superbly funky and minimal collection of tracks as any techno lover could hope to hear.

Cristian's work on these two labels in some way represent the main themes of his music, with more experimental work being released on MILLE PLATEAUX and his drivingly sexy and fierce dancefloor trax represented by TRESOR. Cristian also started his own label, with Si Begg, Mosquito, in 1994, which is now on its 10th release and comprehensively documents the rising talents of UK New School Techno. A 'Greatest Hits' style compilation is planned for 1998 as many of the earlier releases are now unobtainable.

Since 1995 Cristian has released a further three albums - *BodyMapping* (TRESOR), *Specific Momentific* (Mille Plateaux), and *All Music Has Come To An End* (Tresor). As well as recording these, Djing in places such as Tokyo, South Africa, New York, Europe and at Defunkt in Brighton, releasing EPs on Scandinavia, Sativae and Mosquito and much other recording work, Cristian found time to set up a company with two friends Emma Sola and Mat Consume. A disreputable manager type started sniffing round Cristian and in order to avoid such rock biz manipulation, No Future was born. With the graphic design talents of Mat Consume (designer of Cristian's Tresor albums, Neil Landstrumm's Tresor and Peacefrog albums, Scandinavia & Mosquito), the organisational skills of Emma and the willingness of Neil Landstrumm, Si Begg, Tobias Schmidt, and later Dave Tarrida, Jamie Lidell and Justin Berkovi to be involved, the company was off to a good start. 18 months later, No Future's graphic design department now numbers two hard working young souls, with Mr Lynton Million being a welcome addition to the fold, No Future studios features Mr Vogel and Mr Lidell daily beavering away, with bookings going mad, No Future parties at your local drinking establishment and all sorts of plans and possibilities. No Future were particularly proud of putting together *Industrialsamplecoregouchbeat* by Trash (MILLE PLATEAUX), a collection of fucked up digital beats from Brighton's finest including the lovely DJ decay (Cristian). Although almost universally ignored in the press, this album represents a new direction in music, something which Cristian is always keen to encourage and be a part of.

For 1998 two exciting projects present themselves at the beginnning of the year: a top secret new album project, released later in the year, and a trip to New Zealand and Australia, which, although everyone says it, is a bit of a dream come true really...... (The Visit)

Funny


When relaxing at home, "Professor" Vogel likes nothing better than to don his labcoat and get on with conducting computer controlled drug experiments in sound. Having recorded the results, its off with the scientific garb and on with the frilly shirt for a good old dance around the living room. Cristian also enjoys becoming hopelessly addicted to computer games, spending hundreds of pounds on games and the majority of his time glued to epilepsy inducing beat 'em ups. All that killing is thirsty work and Cristian is constantly on the look out for German juice, Bananensaft

Cristian Vogel Info (a bit old)


1996 has been an interesting year for Cristian. Day to day he's been running No Future with Emma Sola and Mat Consume, as well as writing music, teaching electronic music production at Sussex University, and doing gigs. It hasn't been easy, but the year has featured his three favourite gigs of all time.

The first No Future party at Auschwung Ost in Kassel in March was unbelievably messy - Cristian, Neil Landstrumm, Nick Spice, Mat Consume and Tone & Kev (original house DJ's extraordinaire) all played superb sets and totally rocked this excellent club. And we all managed to get home in one piece - just.

The whole crew including No Future bosom buddies Dave Tarrida and Shandy went to Berlin's Love Parade in July. Neil and Cristian tore up the Tresor club with their live PA's, and Cristian played the set of his life at 7am when the sound was resurrected after an hour of silence. Cris, Neil and Nick have just returned from South Africa where they played at a two day party in the desert, 5 hours by plane from Johannesburg - very intense temperatures and incredibly banging music.

Cristian's long awaited foray into ambient experimental electronica was finally released in September - "Specific Momentific" on Mille Plateaux. Recent releases include Defunkt 2 on Solid Records, Demolish Serious Culture on Sativae and Mosquito 5. He was also very proud to do a in March - 'The Visit' from this is THE cut on Defunkt 2. Also keep an eye and ear out for Cristian's new double pack on Tresor, released in April 1997 - "All Music has come to an End" - check it, it will kick some arse...