The Visit
Over an extended three hour set Cristian Vogel will pull you through his blender of wild vinyl cuts and mix desk slices..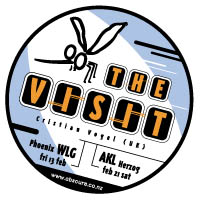 Insect like Cristian Vogel, one of the heavyweights of the UK Bleep and Bass dance scene is visiting New Zealand, Australia and Japan February '98... The first major dance event of '98, The Visit will be starting the year with a Bang!

We're flying Cristian Vogel through NZ and Australia, Then He's off to Japan for more gigs and some recording (he's producing a japanese indie band of all things!)

The Wellington gig will be a bit of an epic... a sense a hybrid between sweaty clubland and one of the larger warehouse style's...

The music will be spread across 3 rooms, one with the new traditionalism of Cristians techno, the live works of LRS and Polarity, and the best of the upcoming tech djs in welly... upstairs will be a cross section of welly's future steppers (including a live set by 50Hz), While the very refined Matterhorn will be providing shooters and a bit of a beautific chill space...

In Auckland, LRS and Agent99 are making their way up to support Cristian alongside locals Mechanism, Clone and Matrix at Herzog...SciFi house comes to Auckland...

Over an extended three hour set Cristian Vogel will pull you through his blender of wild vinyl cuts and mix desk slices... A perfect combination of fun and intensity... a madcap whirlwind of booming bouncing sonics and exhilarating looped rhythms...

The Visit will be the biggest headrush you ever experience!

Forget you preconceptions of what you think techno is...The Visit will take your definition of dance music and turn it on it's head!

Wellington Friday 13th Feb '98

An epic Black Friday in the Phoenix Theatre on Dixon Street: The Visit will feature alongside Cristian Vogel, live wired floor workouts by LRS and Polarity, special visitor from Auckland Mechanism and the best of the forward thinking spinners in Wellington Agent99, Dr Cund and Shadowgirl...

Upstairs, controlling the second room... super breaks specialists Mu, Conspiracy, Softex, Ruffstep and Wellington's own d'n'b programmer 50Hz will be shaking the bass.

The Wellington event is all ages, while a third room will provide shots, champers and coffee in a refined sound space courtesy of The Matterhorn...

Auckland Saturday 21st Feb '98

The Visit enters an environmentally enhanced Herzog... Cristian will be complimented by the the funk edged techno and sci fi house of Mechanism, Matrix and Clone, with a freshly wired Skankatronic live set from The LRS and Wellingtronic supergirl Agent 99.

Ticket sales at each venue are restriceted to 500, with limited door sales.

Biography

25 Year old Cristian Vogel has prolific releases on Tresor Records of Germany (One of the definitive sources on the global techno scene) via his label Mosquito, under the No Future banner. Vogel was rated by Tresor as one of the top 6 djs internationally.

No Future also houses the innovative, uncompromising and irrepressible talents of techno explorers Neil Landstrumm, Si Begg and Tobias Schmidt to name a few.