Bang Psurkit
Third in the Psurkit Series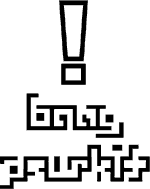 Saturday 26 April 1997 sees the Obscure crew return for another night immersed in the deeper side of electronic dance... Bang!Psurkit is third in the Psurkit lineage... After the much enjoyed Psurkit and PlusPlus parties of '96, !Bang promises to be a very special night on the dancefloor.
From Auckland, the forward thinking Wellington ex-pat Halogen Girl and cohort Crazy Ivan - who has returned home after spending eight months immersed in the UK scene - will both be spinning their own premium brands of carefully selected sonics... As a special treat, there will be a rare live performance from Polarity... local heroes Laurie B and dj Tjaden wiring their synths and drum machines for an improvised exploration. Polarity are featured on Obscure's Skankatronics CD release. Providing the essence of the night will be some of Wellington's finest techno djs... Cyrus, Omar, Zero and Coda... playing styles from funked up techno soul through Detroit essentials to storming four on the floor...
Presales are available at Flipside and Troubadour Records... Venue information will be provided with tickets, and made available shortly before the event via these stores, Radio Active 89FM, and through Obscure's web site at www.obscure.co.nz. For further information, please contact Obscure...