When you're aware of David Harrow's long rich and varied musical career, it seems a bit odd that he isn't better known. Still, according to Harrow that's the way it's meant to be. "It's a law of nature that you keep your head down and don't attract unnecessary attention. My own philosophies I try and keep to myself. I'm not preaching, I'm just trying to push music forwards". Accordingly, Harrow refuses to stick to one musical genre and believes that music is music and needn't be classified. Probably that's something to do with the fact that Harrow comes from a "confrontational art" background.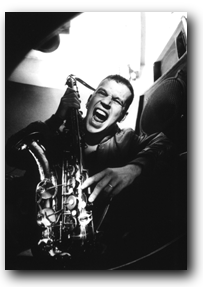 When Harrow's musical career began in the late 1970s that meant an interest in punk and anything a little bit different. He played drums and bass in a variety of dodgy bands and then when his granny died and left him £100 he bought a WASP synthesiser. When the 1980s arrived Harrow found he was hooked on keyboards and electronics and that's when things started to happen.

His first recordings were created in Berlin in 1981/1982 when he was working with a woman called Anne Clark. The sound they created was soon termed new beat or industrial and along with DAF they kick started the European electronic dance scene. When Harrow visits Germany today, he is still hailed "The Godfather Of Techno".

Harrow's confrontational art background led to a loose partnership with the legendary Psychic TV and cult figure Genesis P Orridge. It was all experience, but dwelling so much an the dark and unpleasant side of life got a bit too oppressive for Harrow. During his period with Psychic TV, Harrow was also a member of Jah Wobble's Invaders Of The Heart, through whom he met and started working with Adrian Sherwood's dub syndicate On-U Sound. "One evening Wobble took me down to hang out with Adrian and five years later I was still hanging around. The whole of my career's been like that. It's all been casual and unforced; that's how good stuff happens". And it has been superb stuff. As one of On-U Sound's main contributors Harrow found himself writing for and playing with African Headcharge, Lee Perry and Gary Clail to name just a few. Not bad really, for someone who hasn't forced anything. "I count myself as very fortunate. I've worked with and learnt from three of the greats: Genesis P Orridge, Jah Wobble and Adrian Sherwood. I don't think you could have any better tutors and I'm happy if I've managed to retain one tenth of what they've taught me".

They must have taught him something because by the early 1990s Harrow began to find he was getting musical ideas that didn't really fit the On-U Sound stylee. That's when his solo venture Technova first came into being. The initial material was created while touring Japan with Gary Clail when Harrow found himself putting tracks together on trains and wherever else he got the chance. The music was to encompass Harrow's belief that music shouldn't sit neatly in pigeonholes. Ambience was layered with Techno squelches and beats, ethnic rhythms and dub mayhem.

In 1993, as Technova was taking shape, Harrow first met Andrew Weatherall who at that time was putting together a special Pagan-Xmas bash at his Sabresonic club. Harrow had friends in performance art and he put together his own sort of theatrical event. The show consisted of Harrow playing "Tantra", a 25 minute long Technova track with a group of naked, tattooed and pierced freaks dancing and cavorting around him with chainsaws and bottles of fake blood. Weatherall was so impressed that he offered to release the track. Harrow accepted and since then a handful of Technova singles and two LPs ('Tantric Steps' (94) and 'Transcience' (95) ) have been released on the Sabres Of Paradise label.

Out of their mutual respect it was perhaps inevitable that Harrow and Weatherall would begin working together. By late 1995 they were doing a few remixes and soon they found themselves moulding the highly regarded and ultra-minimal "Levels" EP under the Bloodsugar pseudonym. No doubt there is more to come.

However, not one to be tied down, Harrow has his fingers in a few more pies. In 1995 the James Hardway monicker was born out of his love of experimental jazz (John Coltrane, Mile Davis, etc.) and a newly acquired interest in the complex sounds and rhythms of jungle and drum 'n' bass. With his portable studio in hand, Harrow took a trip to some of New York's finest jazz clubs when the right vibes were achieved came the "Cool Jazz Motherfucker" EP, a superb hybrid of experimental jazz and jungle.

The portable studio is central to Harrow's method. "My goal is to make magic and you can't do that just plodding into the same grey studio each day. An individual piece of music requires a certain environment of a specific state of mind, not the same shabby studio".

Presently Harrow also records and plays live as Technova and his jazz alter ego James Hardway. Recently he has produced for a variety of bands around the world including German techno-punks ATR and Australian record industry winners Caligula. Oh yeah, and he's the man responsible for writing Billie Ray Martin's "Your Lovin' Arms". " That was in about two and a half hours one afternoon. Some people make careers out of that sort of stuff, but I can't take it seriously. It's just a good earner once in awhile".

Harrow has been accused of spreading himself too thinly. Widely yes, but thinly no. The fact that he's prolific in so many different areas surely only proves his talent. "Unless you're in Pulp or Oasis I don't think you can afford to stick with one band anymore. Anyway it's not in my nature. I like to do lots of different things and I like to work with lots of different people. I just do what I do; I'm not doing anything different now to when I started fifteen years ago. Things seem to have come around to my way of thinking, all I've done is stick to my guns".