Obscure in Auckland to play at the Skankatronics release party at Calibre...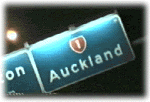 Two days on the road, and three in an apartment at the top of Queen street for noise a few hours of making so people can dance... Two carloads of us have trekked up the country to make our noises heard... Halogen Girl and Tjaden along with LRS, DSP, Teth, Tigger and Crispy...
Sunday evening Auckland City... we've been out once, for a burger, couching it out watching tv, surrounded by the debris of playing live and living on junk food for days... we didn't exactly get out much, but I needed to sit still for a few days anyway...
Caught up with some of Junglist Short Fuses's new material, which is sounding wicked... kind of techstepping but with a softer, more elegant approach than some of that genre... There was also some home grown Aucklotronica (Auckno?) from the likes of Tracker and Scyloc played off dat at the party... when is that Auckland release due out? Calibre is a pretty stylee bar, some would call it small... but it's a cosy little dancefloor with a bar and chill out room...
LRS opened the night with some of that analogue vinyl stuff, followed by Halogen Girl and Auckland's Scyloc... who put out a bouncy little minimal set that was well dancable. Cramped in behing the djs on improvised tables we put out our improvised sounds... behind the canopy netting we couldn't see the crowd, so we were kind of playing blind... but apart from the hormonal kids who wanted 'faster' I think most of them got into our light grooves...
Big shouts out to those in Auckland... Tracey, Nick, Denver, Matt, Andrew, Steve @ Max, Sam, Stinky... Psi

Two crazy daze of travelling the length of this stunning North Isle... There ain't nothing like the Desert Road after dark, when the stars curve round the earth and all is nice... Me and Tigger picked a ridiculous time to give up smoking, although we only held out until the Bombay Hills... Tjaden and Halogen in the back of a station wagon trying to be diplomatic about the travelling music...
You try telling Djs what to play...
Auckland was a pretty rushed experience, we spent the whole of Saturday extremly busy doin nothing, a few cool cafes and missions to catch up ex-pats and various skankers! Saw a few freaks heading out to the Sleaze Ball, and Skanking to the LRS was Micheal Jacksons main dancers... More exciting was to share the wicked music with Ex-pats Conspiracy, Omni, Tim Phin and of course special honey DJ8... High Fives to you boys and those who showed support!
I have to say the highlight of the journey was meeting a cool trucker in Levin who let me and Tigger sit in his cab and bounce up and down on his hydralic chair... Dosed up on the reality of New Zealand, the holdens and bedfords on the highway, Mount Ruapehu, small town service and Taihape snobbery, and tired from the party hardness of our weekend... It was an easy crawl into bed to dream about it all! Teth