Number8wire
Grind presents 'Number8wire' ... a collection of New Zealand Electronica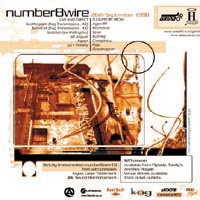 September 1998 will see Grind Productions release their third CD. A collection of pure New Zealand electronica that covers many bases.

Shifting from Techno to Drum 'n' Bass to Dub and beyond it places it's focus on what is being produced right here in the bedrooms of many of this countries finest producers.

Those familiar with Grind's previous CD's can expect a change in format this time.

Moving away from DJ mixes and placing the emphasis entirely on original material. It provides a new perspective on local dance music, mixing up the styles and offering a highly progressive mix of tracks.

With the focus on Wellington artists it is no surprise it blurs the boundaries between genres.

The city has always been regarded as a place where there are no real set divisions and at any event one can expect to hear a hybrid of techno, drum 'n' bass, dub and other styles sharing the same bill.

It is this open minded nature of the Wellington scene that has bought about Number 8 Wire.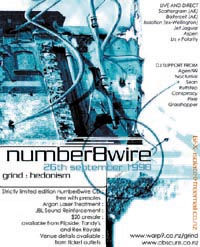 Completing the line up are some very special out of town guests. Thus offering a snapshot of a scene that is forever in transition. It is a release that proves what many have known for a long time that what is being produced here in our very own backyards can hold it's own with anything from around the world in terms of originality and production standards.
The Line Up
Currently living and producing in Auckland, ex-Wellingtonian Isolation opens the CD with the highly original and unique composition 'Broken Wings'. A track aimed at the head rather than the dancefloor.
At present representing with renowned Kog Transmissions crew Auckland artists Scattergram offer '4 Warnings' a dark driving track which begins with some funky beats but quickly delves to some much darker depths.
Nelson producer Freq fresh from his Alloy's release in May provides 'Allies'. Big is perhaps the only way to describe the sound of this trance/techno fusion.
The Wellington flavors begin with little known local artist Gastro. His contribution 'Chi' rolls out the drum 'n' bass styles and brings a smile to my face every time with it's cartooney cowboy sound.
The jungle continues with Christchurch native The Nomad. 'Corrupt' is a drum 'n' bass rinse out, those familiar with his recently released 'Movement' album will know it well.
Next up comes three tracks from some stalwarts of the Wellingtronic scene. LRS, Polarity and Aspen Firstly LRS's 'Off Light' being the mellower of the tracks is a nice funky piece of electronica which is a little more complex than his minimal offerings of late.
Polarity makes some interesting noises on 'We're Here' while Aspen rounds of the trio with something a little more dancefloor friendly.
Chilling it all right out is Estrella with 'Scrag'. A very ethnic sounding track delving into the realms of dub it features a lovely guitar sample performed by Ike.
Local studio wiz 50hz who also oversaw the mastering of the entire project represents Wellington Drum 'n' Bass with 'Attrition'. Those who know his work will not be disappointed by this highly innovative track.
Things almost stray into the realms of industrial with X-generator's 'Insectan', a track that offers yet another perspective on the local scene.
Rounding out the album is Jet Jaguar's 'Loose Circuits'. An artist who has refused to be pigeon holed throughout his producing career Jet provides a wicked downbeat excursion to complete the album.
Number 8 Wire has been limited to 500 copies and will only be available with presales to the Number 8 Wire event which will be happening in Wellington, late September at an as yet to be announced venue. The event will feature a 100% local line up and will be a celebration of New Zealand dance culture. The line up will feature artists appearing on the CD as well as the cream of Wellington's deckticans. More information will be available late August.
Number 8 Wire .... $20 Presales including free CD avaliable from August 31st at the usual outlets
For more information contact:
Grind Productions Darryl Mcgown ddog@strip.net.nz 04 3849929
Phil Ross phil@warp9.co.nz 04 8019403