The Roots Foundation, consisting of Lemon, Goose, Mu and Marek have been bringing the Reggae sound to Wellington for the past four years, styled on the Jamacian sound systems of London... a place Goose, Marek and Lemon have all spent time cutting their selection skills... A point Marek made to me was that even though we are a tiny little island at the bottom of the world, the sounds we hear are among the best on the planet, maybe due to our resident selectors' ability to filter out the best of the available sounds...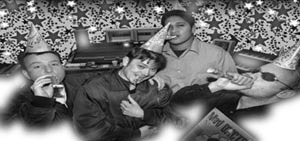 Lemon, Marek. Mu, Goose
Just for your entertainment, here's the press release for the Roots foundation 4th birthday party...
From inauspicious beginnings at the Exchange Bar (now the Malthouse) on Willis Street in September 1992, the Roots Foundation Sound System has come a long way in its initial aims of exposing cutting edge roots reggae and dub music to Wellington audiences and club-goers. A walk through the inner city on any given day will prove the point; cafes, bars, music stores, clothing shops - randomly resonating with the uplifting one-love reggae sound.
Establishing itself as a focal point for great underground dance music and magical party times, the Roots Foundation passed into mythical status in early 1993 after two searing gigs at the Taki Rua theatre in Alpha Street and a brilliant live/sound system combination at that years` Summer City Mardis Gras. Since then, the Roots Foundation collective have staged storming productions on a (seemingly irregular) basis at venues and clubs across Wellington City, maintaining the integrity of audio/visual standards and fresh musical selection that keep the crowds skanking back for more - it`s fair to say that of all of the dance productions and sound system parties that optimise and come to life in Wellington, the Roots Foundation is recognised as the only dance production moniker positively guaranteeing people a great night out.
Echoing the sounds emanating form the inner city environs of London, Kingston J.A. and New York, Aotearoa`s longest running sound system collective presents a night of pure musical enjoyment, "Now We Are Four". In celebration of four years at the reggae controls in Wellington and nearly 30 gigs down the line, sending out love and respect to the estimated 12,000 people who`ve danced their hearts out and been a part of something very special in that time, the Roots Foundation Sound System lays down another fully secure instalment of heavyweight dubplate orbits and seriously skanking grooves. DJs Mu, Lemon, Maverick and Goosebump promise (and will unfailingly deliver!) an all night session of upfront roots reggae and drum`n bass musical delights in the style of the top UK systems like Boomshakalacka, Zion Train, Jah Shaka, and the mighty south London Aba-Shanti-I sound.
The programme runs 10pm-6am, with selectors Lemon & Maverick dropping the most crucial roots reggae and devastating dub cuts back to back until 2am, when the ultra-heavyweight duo of mixmaster Mu and his longtime sidekick Goosebump run a bass-driven selection of the new urban breakbeat and jungle styles `till dawn. Early arrivals will be treated to complimentary shooters of an as yet unspecified branding, with the first 44 being treated to some very special birthday cake courtesy of the Roots Foundation Sound System H.R.T. (Hempolic Research Trust).
In keeping with the fourth birthday spirit, limited $4 presales can be found at Troubadour Records, Retro American Salvage (Manners Mall) & the Edward Street Cafe. Door sales are maintained at the very reasonable cost of $8, and anyone arriving before Midnight will be in the running to win some most desirable CD giveaways from UK reggae labels Ariwa, Blood & Fire, Universal Egg and the On-U Sound subsidiary Pressure Sounds.
Roots Foundation Sound System

Aotearoa`s longest running sound system collective
excursions on the version 1992-1996
1992
3 September @ Exchange
17 September @ Exchange
8 October "DeepGrooves" primer @ Taki Rua
w/ Mu,Koa,Lemon,Roast Chicken,Dubhead
22 October @ Taki Rua
26 November @ Bar Bodega
23 December "Yuletide Bass Feast" @ Taki Rua
w/ Mu,Lemon,Koa,Roast Chicken +Dubhead & Tuffy Culture

1993
17 January Mardis Gras + Bar Bodega
w/ Mu,Lemon,Koa,Roast Chicken,Dubhead
+ Tuffy Culture,Jules Issa,Ras Bonte,Bronz Battlelion
5 February "The Final Feast"
w/ Mu,Lemon,Koa,Roast Chicken +Tuffy Culture, Dubhead Lei-D-Lee, Priestess, Bobbylon,DLT,Wicked Youth

Bronz Battlelion 14 October "Heavy Beats" @ Bar Bodega
19 November "Heavy Beats" @ Bar Bodega

1994
29/30 January "Depth Charge" @ Taki Rua + Mardis Gras
1 October "Boost" @ Stax w/Jules Issa, Tuffy + Dubhead
27 October "Heavy Beats" @ Bar Bodega w/Stinky Jim + Asterix
30 December "Destination Babylon" @ Antipodes

1995
27/28 January "Summer Reggae Explosion" @Mardis Gras & Taki Rua
17 March "The Reformation" @ Escape
28 April "Tunes From The Missing Channel" @ Escape
30 June "Science Fiction Dancehall" @ Escape
18 August "Dubulation" (Vs. Fonky Monks) @ Taki Rua
13 October "Sound System" w/ Salmonella Dub & Jules Issa @ Escape
31 December "Champion Sounds" @ Edward Street

1996
26/27/28 January "Bass Odyssey" @ Wild Horse/Escape/Mardis Gras
4 April "Vibration Version" @ Escape
7 June "Jungle Fever" @ Escape
26 July "DubZone" @ Bar Bodega
23 August "Dubulation 2" (Vs. Fonky Monks) @ Boatshed
20 September "Now We Are Four" (!) @ESCape :10pm-6am : w/DJs
Mu, Maverick,Lemon & Goosebump >>4hrs of roots revive, 4hrs of drum`n bass and the mother of all psyche-adjusting birthday cakes...